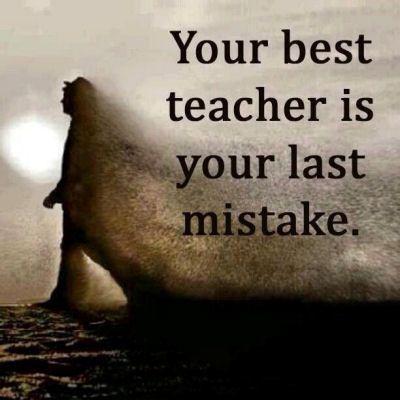 (Photo Credit: picturequote.com)
I'm not sure why, but I was in a reflective mood today.
Here are five lessons I've learned over the past five years pertaining to health and fitness.
I hope you get something out of them.
Lesson #1 – You Can Get Fat Eating "Healthy" Foods
I used to think it was impossible to get fat eating sweet potatoes, broccoli, and chicken breast.
I also thought it was impossible to NOT get fat eating pizza, burgers, and ice cream.
I was wrong on both accounts.
From a fat loss standpoint, how much you eat matters far more than what you eat.
As long as you're eating in moderation, you should be good to go.
Lesson #2 – There Is No Perfect Program
When I first started training, I was a program hopper.
I would jump from program to program looking for the "best" one that would instantly take my results to the next level.
Little did I know the program didn't matter nearly as much as the effort I put in to it.
Once I stopped trying to find the perfect program, and instead focused on just showing up and putting in  work on a consistent basis, my results skyrocketed.
An average plan followed consistently will always yield better results than an amazing plan followed sporadically.
Lesson #3 – There's Nothing Magical About the Squat, Bench, and Deadlift.
It was my interest in powerlifting that led me down this rabbit hole.
Basically, I got to a point where I thought everyone – no matter their goals or preferences – should be performing the squat, bench, and deadlift.
Those movements are great tools, but they aren't the only tools.
Some people?
They respond better to other exercises.
They also have more fun performing them.
And it's those movements – not the squat, bench, or deadlift, although it certainly can be – that should form the foundation of their training plan.
Lesson #4 – You Don't Have to Eat Every 2-3 Hours
I don't know why I started adhering to this nonsense.
The idea is that if you eat small meals throughout the day, it "stokes your metabolic fire" and helps you lose body fat.
It's a bullshit idea.
Your metabolism is a product of many factors (lean muscle mass, total body size, activity level, food intake, etc.), but how many meals you eat isn't one of them.
If you want to eat six or seven meals per day, that's fine.
But for most people, myself included, 2-4 meals seems to be ideal.
Lesson #5 – Extremes Will Destroy You
Lastly, I don't know if you've noticed, but most people jump from one fitness extreme to another.
Let me give you some examples:
People either do a ton of cardio and no strength training, or they do a ton of strength training and no cardio.
People either eat healthy food and no junk, or they eat a ton of junk and barely any healthy food.
People either train exclusively with low reps and heavy weight, or they train with high reps and low weight.
People either do mobility work every day (maybe even multiple times per day), or they do zero mobility work.
The problem with extremes is they develop weak points.
And over time, those weak points grow to the point where they either halt progress, or cause some sort of damage (physical or mental).
In most cases, a more "middle ground" approach is key.
Just make sure you emphasize whatever it is you currently want to achieve.
Want to Build Crazy Amounts of Strength?
Signup below to receive my [FREE] strength training manuel delivered in the next 60 seconds.