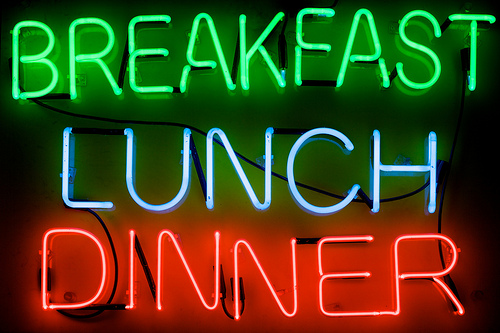 *Photo Credit: grinelltraining.com
However frequently you want to eat.
I know that's a vague answer.
So let me explain.
But First, Let's Take a Look at The Pyramid of Nutrition Priorities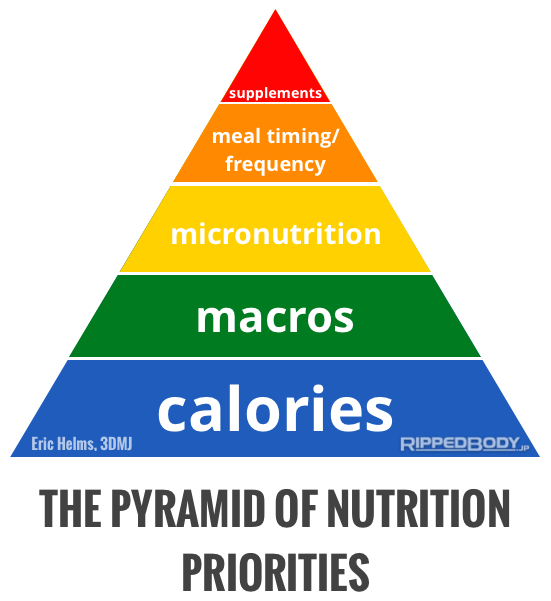 I stole this from The Muscle and Strength Pyramid books written by Eric Helms, Andrea Valdez, and Andy Morgan.
The pyramid provides a great visual of the most important (bottom of the pyramid) and least important (top of the pyramid) variables that go in to proper nutrition (as it relates to sport performance and physique development).
As you can see, meal timing is near the top of the pyramid.
It isn't nearly as important – and doesn't have nearly as much of an impact on your results, both performance and physique wise – as calories, macronutrients (protein, carbs, and fats), and micronutrients.
So, when you go to set up your nutrition plan, set those variables in place first (because they account for the majority of your results).
Then, worry about the timing and frequency of your meals.
OK, Cool.  So How Do You Pick a Meal Frequency?
Simple.
Your ideal meal frequency is dependent upon three factors:
Schedule
Preferences
Goals
Let's go over each factor individually.
Schedule
This has the biggest impact on meal frequency because no matter how many meals you'd like to have each day, your schedule will dictate how many meals you can have.
For example, a heart surgeon may want to eat every 2-3 hours because he thinks it will "stoke his metabolic fire" (it won't), but he can't jut stop in the middle of surgery to pound a chicken breast.
Before you start worrying about what you prefer – or what's ideal from a goal perspective – you need to figure out what's ideal from a schedule perspective.
Because, some people?
They can eat as many – or as few – meals as they want (professional bodybuilders, whose days revolve around training and eating, come to mind here).
Other people?
They don't have that same luxury (they have to take what they're given).
Preferences
Next to your schedule, your preferences make up the second largest part of the "meal frequency equation."
If you find that you enjoy eating six meals per day – and you have the ability to do so – eat six meals per day.
And if you find you're more satisfied eating 1-2 large meals each day, eat 1-2 large meals each day.
Again, meal frequency/timing isn't nearly as important as calories and macronutrients.
So, although one meal frequency may provide slight benefits compared to another, you're better off just picking a meal frequency that you enjoy – and that works well with your lifestyle and schedule – so that you can stay more consistent on your program (because consistency = results).
Goals
Lastly, your goals have a small impact on meal frequency.
If you're trying to gain weight – and your food intake is around 4000 calories per day – you'll probably have a hard time fitting all of that food in to 1-2 meals (or, at the very least, you'll feel like crap after you do so).
And if you're dieting – and are in a deficit – you may find that grazing on small meals throughout the day isn't satisfying, and eating 1-2 large meals is the only way you can manage hunger (and keep yourself from falling off the wagon).
Either way, all that really matters is that you get in the right amount of calories, macros, and micros for your current goals.
You may just find that certain meal frequencies coincide with certain goals better than others.
Ok, Sweet.  So What Do You Recommend?
Personally, my recommendation would be to eat 3-4 meals per day.
It's a low enough frequency that it won't interfere with your work schedule, and will provide meals large enough that they'll keep you full and satisfied, but…it's a high enough frequency that you'll have fuel around training (or in other words, you won't be hungry during training), and you shouldn't have a problem getting food in regardless of your current goals.
But hey, 3-4 meals is what works best for me, and the majority of my clients.
As always, you have to figure out what works best for YOU.
Want to Build Crazy Amounts of Strength?
Signup below to receive my [FREE] strength training manuel delivered in the next 60 seconds.