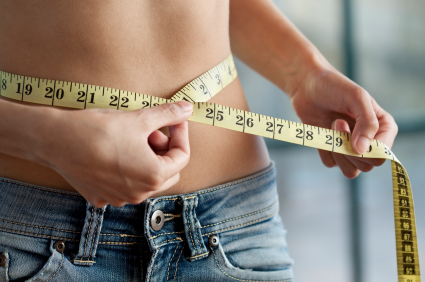 *Photo Credit: fitday.com*
"What gets measured gets managed."
When it comes to losing body fat, keeping track of your progress – so you can adjust your program based on your results – is a must.
Here are the top four ways of going about it:
Take Photos of Yourself (Once Per Month)
This comes first because how you view yourself – and what you consider to be "attractive" or "beautiful" or "aesthetic pleasing" – is far more important than any tape measurement or number on the scale.
Plus, photos don't lie.
If you don't look like you're getting leaner from one month to the next, then you're not getting leaner from one month to the next.
I'd recommend taking photos of yourself from the front, back, and sides when you first start your fat loss journey.
Then, every month, re-take some "update" photos (preferably in the same place you took photos the first time around).
Try on Old Clothes (Once Per Month)
This is a good idea for two reasons:
If you can fit in to a pair of jeans or a dress you haven't been able to wear in five years – when you were 20 pounds lighter – you know you've lost body fat.
Fitting in to old/smaller clothes is a commonly stated fitness goal, so when you achieve it, it boosts confidence and motivation.  And this creates a snowball effect that propels you towards even bigger goals.
Of course, not everyone keeps their old clothes.
You might be one of these people.
And if you are, simply pay attention to how your current clothes are fitting from one month to the next.
If you end up going to the store for a wardrobe change, you know you've made progress.
Take Circumference Measurements (Once Per Week)
Do this with a tape measure.
And record the circumference – in inches – of the following three areas:
Waist/abdomen
Hips
Thighs
There are more areas on your body you can measure, but these are the most informative (since they're where the majority of fat loss takes place).
If you're losing inches, you're undoubtedly losing body fat.
Weigh Yourself (at least 3x per week)
Lastly, I'd recommend hopping on the scale at least 3x per week and recording the average number.
Just do so with the understanding that it's the least accurate form of measurement (since it fluctuates on a dime and doesn't take in to account the amount of muscle mass you have).
But, it's a useful tool all the same.
And if the number on the scale is going down – although there is a difference between "fat loss" and "weight loss" (which is why you should prioritize the other three forms of measurement) – you're probably moving in the right direction.
Want to Build Crazy Amounts of Strength?
Signup below to receive my [FREE] strength training manuel delivered in the next 60 seconds.